Safely Designed Gallery Children for Fun and Learning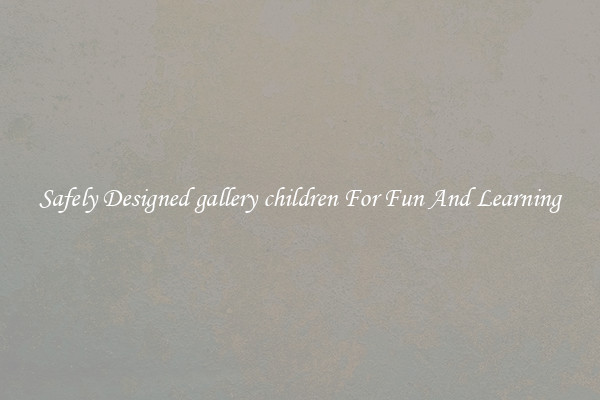 Art galleries are often perceived as spaces for adults to enjoy and appreciate art. However, there is a growing trend of creating gallery spaces that cater specifically to children. These child-friendly galleries provide a safe and interactive environment where children can learn about art, engage with exhibitions, and unleash their creativity.
One of the key considerations when designing these spaces is safety. Gallery owners and curators understand the importance of creating an environment that is free from hazards and potential dangers. This includes ensuring that the layout of the gallery is child-friendly, with clear pathways and non-slip flooring. Additionally, child-sized furniture and appropriate lighting levels are implemented to ensure comfort and safety.
Artworks displayed in children's galleries are carefully chosen to be both stimulating and age-appropriate. These artworks often feature vibrant colors, interesting textures, and playful subjects that capture the imagination of young visitors. The selection process also takes into account the content and themes portrayed in the artworks, ensuring that they are educational and suitable for young audiences.
Interactive exhibits are another crucial aspect of child-friendly galleries. These exhibits encourage children to actively engage with the artworks, be it through touch, sound, or movement. Interactive installations may include touch-screen displays, sensory experiences, or even virtual reality elements. Through these interactive exhibits, children can develop their fine motor skills, creativity, and critical thinking abilities.
Moreover, gallery staff and educators are present to guide children through the space, provide explanations, and facilitate learning experiences. They interact with children, ask thought-provoking questions, and encourage them to express their interpretations of the artworks. These interactions not only enhance children's understanding of art but also boost their confidence and communication skills.
Children's galleries also often organize workshops and art classes that allow children to create their own artworks. These hands-on activities give children the opportunity to experiment with different art materials, techniques, and styles. The focus is not on the final product but on the process of exploration and self-expression. By engaging in these activities, children develop their artistic abilities, problem-solving skills, and social interaction.
Overall, safely designed children's galleries provide a nurturing environment where children can have fun and learn through art. These spaces promote creativity, imagination, and curiosity, instilling in children a lifelong appreciation for the arts. By catering to their unique needs and interests, galleries help foster a love for art that may shape their future pursuits and enrich their lives in countless ways.