Non-Corrosion Technology Home Curtain Tube: Ensuring Long-Lasting Elegance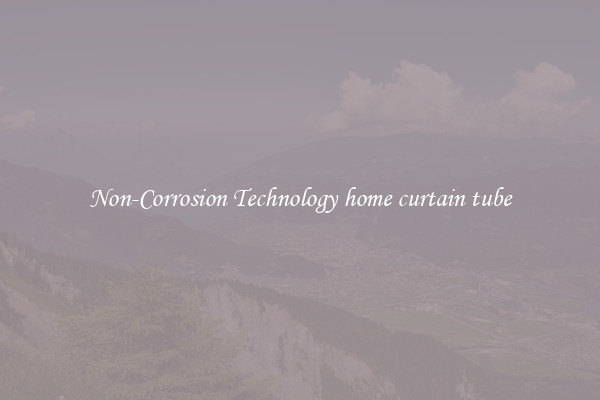 When it comes to home decor, curtains are an integral part of creating a stylish and functional living space. However, despite their aesthetic appeal, many homeowners face the challenge of choosing curtain rods that are not only visually pleasing but also resistant to corrosion. Thankfully, advancements in technology have resulted in the development of non-corrosion curtain tubes, ensuring a durable and long-lasting solution for every home.
One of the primary concerns with traditional curtain rods is their susceptibility to rust and corrosion, especially in high humidity environments such as bathrooms and kitchens. This not only compromises their appearance but also poses a risk to the structural integrity of the rod itself. Non-corrosion technology tackles this problem head-on, offering homeowners a worry-free option that remains in pristine condition over time.
The non-corrosion curtain tubes are predominantly constructed using high-quality materials such as stainless steel or aluminum alloys. These materials are known for their resistance to rust, oxidation, and corrosion, making them ideal for withstanding the challenges of moisture-rich environments. The tubes undergo special treatments and coatings during the manufacturing process, further enhancing their ability to repel moisture and resist corrosion.
In addition to being resistant to corrosion, the non-corrosion curtain tubes are also robust and durable, making them suitable for supporting heavyweight curtains or drapes. The high-quality materials used ensure that the rods can withstand the weight and movement of curtains without bending or warping over time. This not only ensures the visual appeal of the curtains but also reduces the risk of accidents caused by a bent or weakened rod.
Moreover, these non-corrosion curtain tubes come in a variety of sleek and trendy designs, allowing homeowners to choose a style that complements their interior decor. From minimalistic and modern rods to ornate and decorative options, there is something to suit every taste and preference. With a vast range of finishes such as brushed stainless steel, polished chrome, or matte black, these rods can effortlessly blend into any design scheme, adding a touch of elegance to your living space.
To ensure proper installation and functionality, it is advisable to seek professional assistance when installing non-corrosion curtain tubes. This ensures that the rods are securely mounted and correctly aligned, preventing any potential damage caused by improper installation.
In conclusion, non-corrosion technology has revolutionized the way we perceive curtain rods. The introduction of high-quality materials and specialized coatings has resulted in curtain rods that are not only resistant to the harsh effects of corrosion but are also incredibly durable and visually appealing. With a wide range of designs and finishes available, homeowners can now elevate the elegance of their living spaces without compromising on functionality and longevity. Embrace the non-corrosion revolution and enjoy the lasting beauty of your curtains.